Computer Cases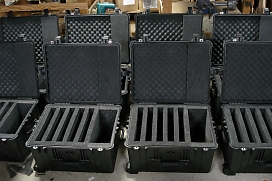 The pictures below show the typical configuration of a case for personal computers or servers, keyboard, mouse and accessories. Monitors can be packaged separately or everything can be packaged in one larger case. Laptop or notebook computers can also be packaged in a much smaller Custom Case or a molded that also has room for AC adapters, portable printers etc. Plasma displays, routers, Laser Printers and many other types of computer related equipment cases are also available.
Every case is designed differently according to our customers requirements and the size, weight and sensitivity of your equipment. Below you will find a small sampling of the styles of cases available.

Our monitor cases are designed for easy access and removal of your monitor. They keep most of the weight of your monitor off of the base and do not allow your equipment to move around inside the case regardless of its position during shipping. You can print a copy of our Monitor Specification Form, fill in the information and fax it back to us for an estimate or fill in the Monitor Specification Form 2 or Flat LCD Monitor Specification Form 3 and submit it.
You can see a larger view of each picture by selecting it.
| | | |
| --- | --- | --- |
| | | |
| 1/4" case with retractable handle,wheels, recessed keylock, 3" x 5" ID plate | The cutout in each end allows for easy removal of the PC | Your accessories are placed in their own compartments |
1/4" case for 16" monitor
1/4" case for 17" monitor

with 3 stage retractable handle & wheels

Inside base view of typical monitor case

3/8"" case for 21" monitor
Rubber shock mount case

Click here for more racks
1/4" case for 12 Laptops

with retractable handle and wheels

1/4" case for 6 Laptops

with retractable handle and wheels

Pelican 1520 cases with custom foam

for Laptop and accessories

Pelican 1470, 1490 & 1495 series Laptop cases

For more information see
7030-20 laptop case

for laptops up to 14.2 x 11.2 x 1.9

3/8"" case for 10 Laptops

with retractable handle and wheels

3/8" case for 5 Laptops

with retractable handle and wheels

Pelican 1620 cases for 5 Laptops and

compartment for accessories

Accessory compartments

can also be customized
Pelican case with wheels and

pull-out handle for 6 laptops and accessories

1/4" case for two 15" Flat panel monitors

UK 1422 loadout case for 5 laptops

Same case for flat panel monitors closed
Pelican 1600 case with

custom foam for Viewsonic VP-140

ViewPanel & accessories

Mitsubishi LSA820

Flat panel monitor case

3/8" case for Monitor, CPU,

Keyboard and Accessories

Case for Fujitsu PDS4211W-H Plasma Display
SKB LCD Cases

20" to 26"