Custom Case Co.
Tel: (613) 822-0620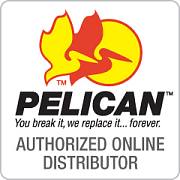 Cases for Military, Fire Departments, Police, Industrial, SAR, Search And Rescue, Aviation, OEM, Coast Guard, Marine, Emergency Response, Industrial
Pelican™ Equipment Cases & Pelican ProGear™
Click Here For Pelican Protector Case Models and Pricing
Click Here for Pelican Storm Case Models and Pricing
Volume Discounts Available
Saw cut, Die Cut, water jet cut,Foam Lined, Layered, Anti static, Polyurethane (Ester), Polyethylene (Etha), Crosslink
Features
Pelican cases meet or exceed the highest standards of Industrial, Airline, Military and Commercial Applications. Models 1200 through 1750 and the new Cube cases have a newly designed toggle latch for easier opening.
Airtight and Watertight to 30 feet. Nominal temperature range: - 25º to +80º C (-15º to +175º F).
Constructed of light-weight ultra high impact structural Copolymer Polypropylene. Nominal Wall Thickness .250 inch structural composite sandwich provides 4 times the strength to weight ratio over conventional injection molding.
Watertight Neoprene o-ring seal with exclusive Atmospheric purge valve that allows for quick equalization after changes in altitude or temperature.
Meet MIL-STD 4150-H Stacking (400 LBS.) Drop Test (48"), Humidity, (120º F at 95 % RH), Immersion (2" at 160º F)
Supplied complete with pre-scored Pick 'N Pluck™ foam (1.65 lbs. Polyester ) or padded dividers (no cutting required). (except models 1700, 1720 and 1750 which come with standard foam). Custom foam interiors also available.: Saw cut, Die Cut, Foam Lined, Layered, Anti static, Polyurethane (Ester), Polyethylene (Etha)
Locking flanges (requires padlock or combination lock). 1506TSA cable lock fits all Pelican cases. Other locks available

*TSA is an American Homeland Security Agency active in airports throughout the U.S. Only.

Molded-In rubber gripped large ergonomically designed handles. Some models feature padded handles
Models with wheels: 0340, 0350, 0370, 0500, 0550 (removable wheels) . 1510, 1560, 1610, 1620, 1700, 1720, 1730, 1740 and 1750 feature 2" quiet roll urethane wheels. 1630, 1640, 1650,1660, 1690 & 1780 feature quad wheels on one end.
Peli Quick Mounts (set of 4) available for special equipment mounting. Fits all cases.
Special application panel frames available for some nodels.Tthe kit includes the mounting bracket or panel frame which installs below your panel and fits against stops molded inside the case walls. A polymer O-ring seals the panel so the case remains watertight even with the lid open. pre-drilled holes and stainless steel screws make fabricating a custom application faster stronger and more accurate.
.... ......
Lid organizers are available for most models.
....

.............#1659 ------------.......... .#1609.................

..

-#1508------ ------ ... ... ....... .#1509...............................#0349,.#0359 & #0379

Divider Sets available for most models.

Panels adjust to different configurations.
Click Here For Pelican Protector Cases
Click Here for Pelican-Storm Cases
Volume Discounts Available