i1010 Case Specifications
Colors: white, black

Exterior Dimensions (L x W x D):
5.43" x 4.06" x 2.12" (13.8 x 10.3 x 5.4 cm)
Interior Dimensions (L x W x D):
4.37" x 2.87" x 1.68" (11.1 x 7.3 x 4.3 cm)

Lid Depth: 0.69" (1.8 cm)
Bottom Depth: 0.94"(2.4 cm)
Total Depth: 1.63"(4.1 cm)
Weight w/Foam: 0.41 lbs. (0.19 kg)
Buoyancy Max. :
0.51 lbs. (0.23 kg)

Range Temperature:
-10 / 199.4° F (-23 / 93° C)

i1010 Case Certificates

• IP67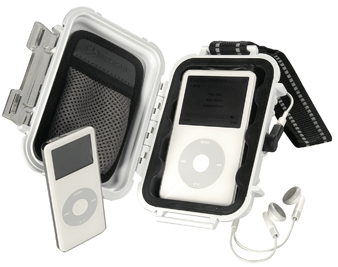 The i1010 is a tough, watertight case with a molded rubber compartment that fits the Apple iPod Shufflen Nano or 20, 40, 60 GB iPod and the new iPod video.
The i1010 Micro Case with Pelican's trademarked "Dual Band" design has a high impact polycarbonate shell . A strong latch with stainless steel pins keeps the case closed after drops and hard knocks, and the shock-absorbing liner doubles as a watertight seal. The pressure-balancing Gore-Tex® valve keeps moisture out and makes it easier to open the case after altitude changes.
**(iPod and accessories not included)
Designed for any iPod, Nano, and Shuffle.
External head phone jack allows user to play their music player while protecting it.
Lid organizer stores earphones.
Strong nylon strap .
Watertight, crushproof, and dust proof.
Easy open latch.
Unconditional Lifetime Guarantee of Excellence